Black + Mental Health + Matters
INTRODUCING,
BLACK

+

MENTAL HEALTH

+

MATTERS

!

CENTERING BLACK MENTAL HEALTH, TENDERNESS, AND HEALING

Developed by Natalie Patterson, Black + Mental Health + Matters is an interactive workshop* that is designed to be a place of refuge for Black students.

Knowing that Black humans in North America face unique and specific barriers to mental health, this workshop provides a place for Black students to be seen and heard, both collectively and individually. It equips participants with tools to help them heal and thrive by connecting students with culturally specific mental health resources available to them.

While this event centers Black students, organizers may choose to invite all campus community members to attend, including allies.

*Black + Mental Health + Matters workshops are offered both in-person and virtually.

So many students go through day to day enduring so many challenges and this space really allowed for our Black students to be heard and validated!
— BMHM participant at Long Beach City College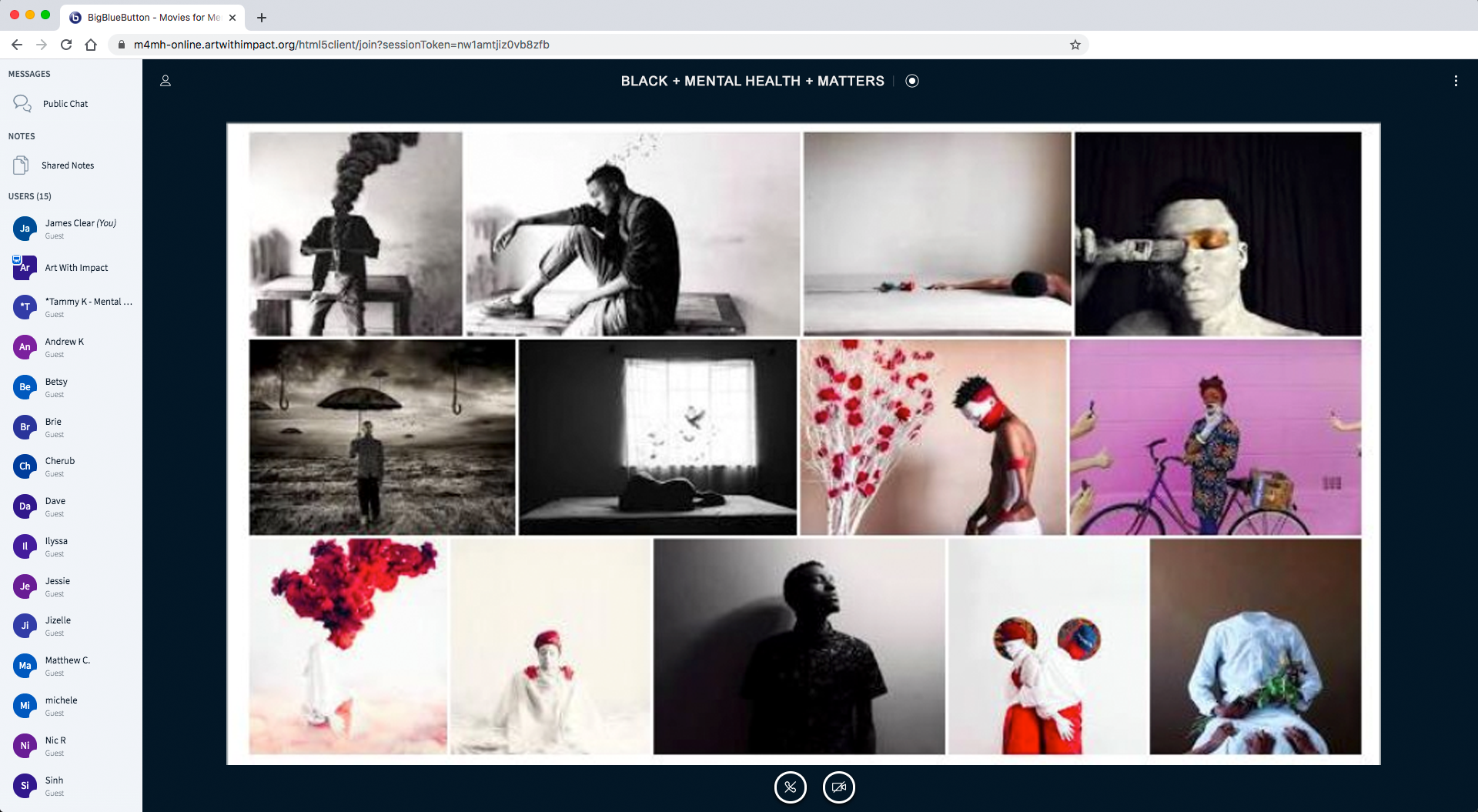 The Black experience is much more vast than I could have ever dreamed, wanting to go into mental health work. This was a deeply enlightening experience for what I can bring to the table and what I may not be able to offer because of my lack of experience.
— BMHM participant at American River College
Some of the art and arts-based practices included in Black + Mental Health + Matters are:

Oftentimes, although "diversity" is mentioned in spaces created to encourage and promote mental health, Black folks are left out of conversations and their needs are not centered. This space was not that. This space definitely centered the mental health of Black folks and I think that was so important.
— BMHM participant at Glendale Community College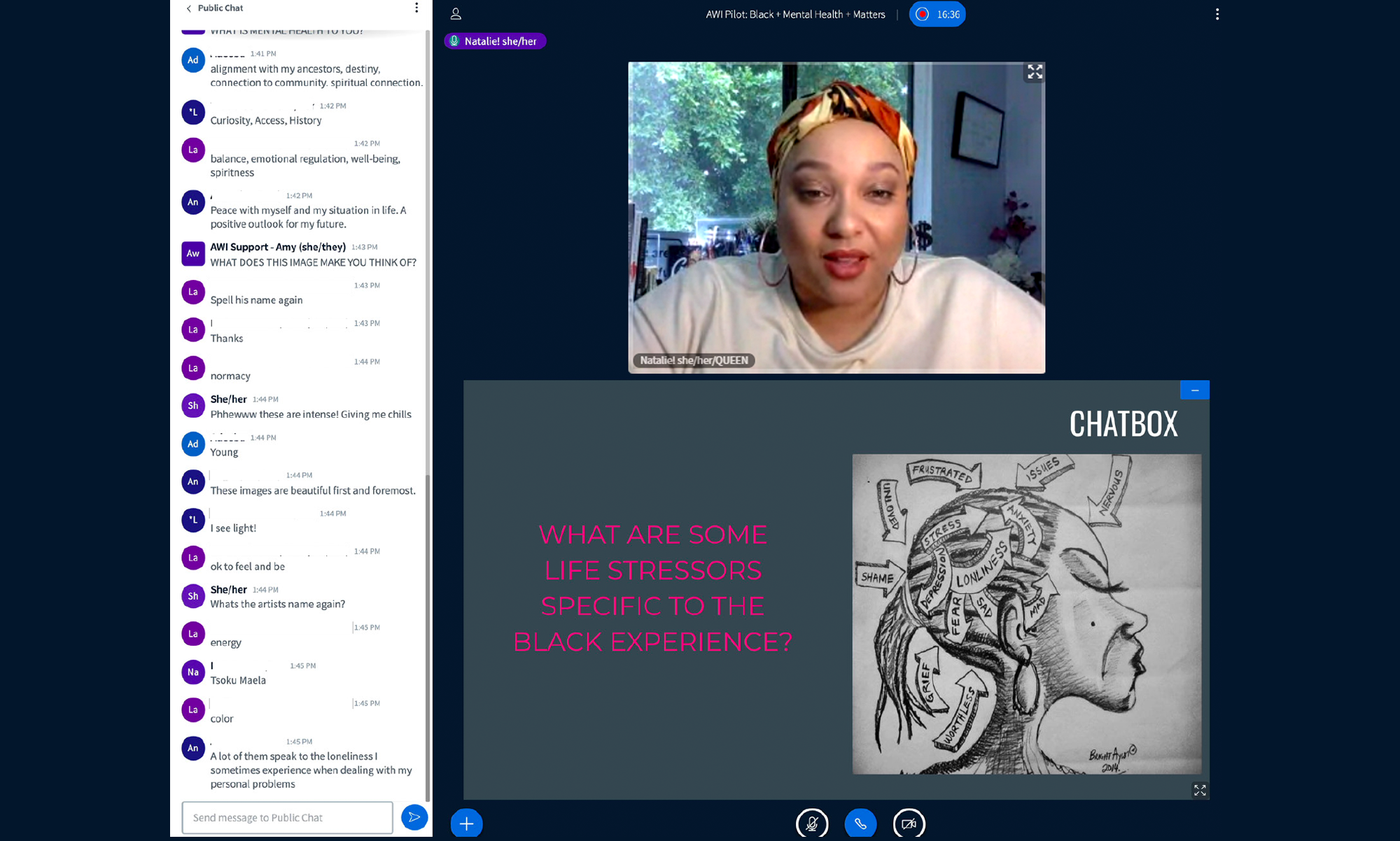 These workshops are important because I think Black people have been holding onto a lot of pain, suffering and frustration and I don't think there are a lot of places where Blacks can express that without feeling gaslighted, judged or belittled so I think it's important to have these spaces where Black people can talk about their feelings and frustrations, a place where they could be heard, their feelings validated, where they can be supported and where their feelings matter.
TAKE AN INSIDE LOOK AT THE
BLACK

+

MENTAL HEALTH

+

MATTERS

AGENDA AND OUTCOMES:

Black + Mental Health + Matters was designed to increase feelings of connection and mental wellness among Black folks. Together, in community, we:
Define & contextualize Black mental health, including life stressors specific to the Black experience and inviting ancestors into the practice.
Work together on container- & toolkit-building, introducing tools such as LivingUpp's 8 dimensions of self-care, The Scale-O-Truth, and more.
Connect with one another—and ourselves—in genuine ways through Council, a circle-based sharing and listening practice.
Learn about culturally-specific mental health resources available to us.
Explore poetry as a form of reclaiming and expression, and write together in real time.
Designed to promote early intervention and prevention strategies, Black + Mental Health + Matters workshops result in:
87%
of students not in therapy reported an increased likelihood of seeking support for well-being
96%
of Black students said that the workshop felt like a place of refuge
95%
reported that the workshop equipped them with tools to help them heal and thrive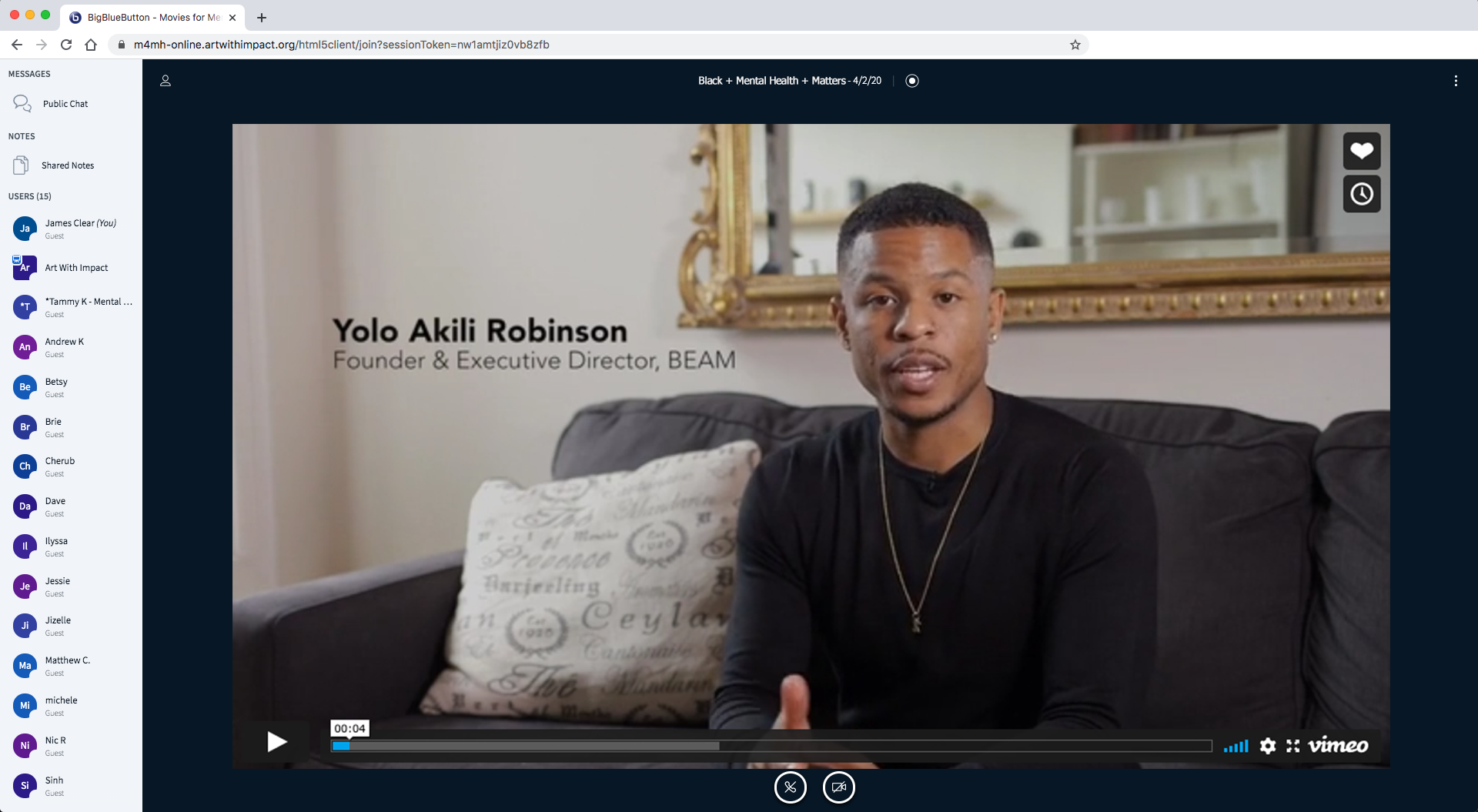 BLACK EMOTIONAL AND MENTAL HEALTH COLLECTIVE (BEAM) RESOURCE BEING PRESENTED BY YOLO AKILI ROBINSON ↑

It was very eye opening to know that there are other people that look like me that have been experiencing and feeling the same way I have especially during this pandemic and it was also very comforting having everyone bond and just love one another.
— BMHM participant at Santa Clara University
Logistics
Art With Impact handles everything on the planning end of things—from marketing materials to technical support—so you don't need to worry about anything other than choosing a venue (for in-person workshops), helping us promote to your students, selecting wellness resources, and showing up on the day of the workshop!
Our virtual programs run on the BigBlueButton (BBB) open-source platform, hosted on Art With Impact's private server. BBB works across all major HTML-supported browsers (Chrome, Firefox, Safari, Internet Explorer, and Edge) via computer or smartphone, and participants do not need to download or install any apps or software.