WHY make a film about mental health?
So you may have only learned earlier this week that submitting a film about mental health (for a chance to win cash and change lives) was even an option in your life, but you may be asking 'Why'? Well, we're so glad you asked.
In the 150 plus Movies 4 Mental Health workshops we've hosted on different college campuses over the years we repeatedly see how mainstream media contributes to misconceptions about what mental illness really is. Over the course of each academic semester we ask "What are films you've seen that feature mental illness? How are these characters portrayed?" Time and time again we see massively stigmatizing language – not to mention just straight up false ideas and representations (think: SPLIT).  Below is an example of the types of representations students mention that we see – and don't see: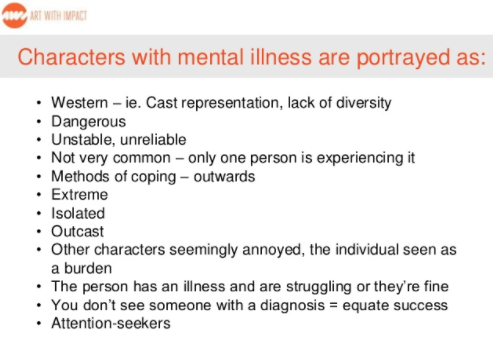 In order to combat these messages and help build compassion around true experiences, we need art to fill a gap in understanding and shift culture. We asked some of our previous short film winners why making a film about mental health is so important and here's what they had to say:
On creating short, compelling content:
"I happened to have a group of friends who were going through the same ordeal; they were deeply unsatisfied with their status quo and I felt the need to show what a narrative content could be if they tried to pave a different path, hence the short film "Purpose". In the age of social media, attention span has dwindled big time – I wanted to tell the story within short period of time, yet hold a viewers attention in a way that he or she is drawn in to the viewing experience through the use of sound and quick pace." – Victor O'Frank, Trained medical doctor and filmmaker 
On healing:
"Honestly making this film really helped me process a lot of emotions and residual feelings I didn't know I still had. I initially set out to make this film as a gift to inner child, but my 'adult self' got so much out of it as well. That was a nice surprise :)" – Elizabeth Akiyku, filmmaker behind Little Elizabeth
Elizabeth Ayiku Acceptance Video
"I have always used words and creative writing as therapy and have always tried to voice my thoughts on paper. While I was experiencing my mental health issues in 2015 I tried my best to document my struggles on paper with the thought that in times of difficulty I could re-read through these and be able to see exactly how far I have come on my own personal journey. A Film About Love evolved from these journals.  It was never intended to be anything more than a university project which I felt forced to do because of a deadline. Instead it turned out to be the piece of work I am still reaping the rewards from over two years later, a film which I am proud of and get messages through every single day from people struggling who have found momentary comfort in the words I wrote during my darkest days. The power of A Film About Love is its honesty and in exposing myself in such a way has strangely given me an incredible amount of freedom." – Dale John Allen, A Film About Love
"One of the most difficult things about being in the depths of your lowest low is this feeling of isolation, the belief that you are completely alone. Only by being vulnerable and sharing our stories can we fight stigma, dispel the troubling misconceptions surrounding mental health and create a strong sense of community so that no one has to feel alone anymore.' – Kim Hunyh, filmmaker and photographer, director of Sal Tran
On the power of art:
"Creating Sal Tran reaffirmed for me the power of art in transforming pain into something beautiful and meaningful." – Kim Hunyh, Sal Tran
In case you didn't already know, artists and filmmakers are changing the world! We've interviewed over 15 of our winning filmmakers to leverage their expertise to help you get started.
Stay tuned in the coming weeks as we dive into the beautiful intersection of filmmaking and mental health! Next week we'll be diving into the process of making a film about someone else's mental health story.
---
All content on Art With Impact is available to all, free of charge and without ads. If articles like this are valuable to you, please consider supporting Art With Impact.
This matters!