Using My Art to Find My Truth
– Dale Allen John
Filmmaker and student, Manchester School of Art, UK
I have always used words and creative writing as therapy and have always tried to voice my thoughts on paper. While I was experiencing my mental health issues in 2015 I tried my best to document my struggles on paper with the thought that in times of difficulty I could re-read through these and be able to see exactly how far I have come on my own personal journey. A Film About Love – my film which won AWI's film competition in May 2016 – evolved from these journals.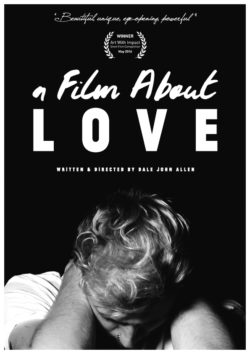 The medication I was on at the time made me feel extremely restricted creatively and I felt I had nothing to offer my art. I re-read through these diaries and the words rewrote themselves in about twenty minutes into the narration you hear in the film. It was never intended to be anything more than a university project which I felt forced to do because of a deadline. Instead, it turned out to be the piece of work I am still reaping the rewards from over two years later, a film which I am proud of and get messages through every single day from people struggling who have found momentary comfort in the words I wrote during my darkest days. When I made the film I never intended or imagined it to be viewed on such a scale that it has been; if I had, I perhaps would have been a lot more reserved and sensitive about the level of detail I was exposing. But the power of A Film About Love is its honesty and in exposing myself in such a way has strangely given me an incredible amount of freedom.
I live with bipolar disorder every single day – no matter how well I am or how well I like to think I am – of course it is going to spill into my practice. I write based on what I know. My experiences are the only thing I can utilise to create honest and authentic work and these experiences fuel my creativity.
I've written and directed another short film, HUGO, XO, which evolved out of my manic desire for sexual validation. I recognised that my risky behaviour and sexual encounters coincided with my hypomania and I used this as the basis of the film. Speaking with sexual extroverts in the queer community I wanted to explore this aspect of myself and how similarities emerged in my peers. The amount of times I have crashed from a hypomanic period and have been so full of shame I can no longer count. I wanted to use this to explore just where that shame stems from. Hugo, XO is a film I created to reclaim that shame and to essentially cut myself some slack and be more loving toward myself and my queer community.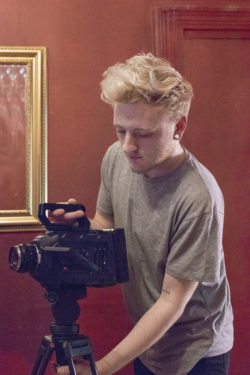 Picture: Shooting of Hugo, XO (Photo credit: Manel Ortega)
I have been in education for 20 years, and am currently studying for my masters in filmmaking. Art has always been my passion and to be able to use my creativity as a form of therapy has been key – not only for my recovery – but to enable me to maintain my mental stability. Strangely, it has been comforting using my experiences with bipolar disorder and building my career as a filmmaker through it. The challenge comes when you have to fit your creative efforts into a schedule and a deadline, which can be disheartening and no aid to the inevitable writers blocks.
Throughout the course of my masters degree I will be creating an extended short film, DON'T BLAME JACK. This is a semi-autobiographical short-film which tackles the subject of post-diagnosis. Your problems do not go away once you receive the diagnosis, but instead the long, often dull reality of recovery just begins. This story demonstrates how mental health and sexuality can have a profound impact on an individual's life, with hope to highlight important issues that members of the queer community face. Many members of the queer community suffer from mental health issues such as depression, which can often be exacerbated by fear of acceptance. Many members of the LGBT community end up homeless, or struggling with addiction. Every single person has a story to tell and to share with others. The most inspiring thing about A FILM ABOUT LOVE was the touching stories I received from others telling me I made a difference. I would love to be able to continue to make a difference, celebrate equality, and continue to wave my pride flag in the name of love.
This is not a sad story, it's a story of self-love and self-appreciation. It is about accepting that I am not just my mental illness and I am not just my sexuality. I am a passionate voice with a story I wish to share and inspire. Above all, I am a person. Everything else is secondary and I too often need reminding of that. I am not my sexuality. I am not my mental illness. I am a person who uses art to make sense of this strange life.
---
All content on Art With Impact is available to all, free of charge and without ads. If articles like this are valuable to you, please consider supporting Art With Impact.
This matters!