How to tell one thing well – Strategies to improve your storyline!
Hello filmmakers, mental health advocates, and all around change-makers! Eager to learn some tips that will help enhance your films? We've got you covered. Our last blog posts focused on how to write compelling characters, and this week we'll be exploring how to improve filmmaking strategies to be more effective for the audience.
Have one main storyline
As simple as it may sound, having one primary storyline can make a film very effective at displaying its core message. The film 'FINE' focuses on increasing human connection and breaking the silence surrounding mental health. Saida Saetgareeva, the filmmaker behind this powerful short, emphasizes how the most important element in creating films is to have a clear story.  Especially when it comes to mental health, Saida says to try to eliminate a viewer's questions of 'Is this mental illness or something else?' Further, she says "Everyone's experience is quite different – make it clear what type of mental illness you're talking about." Focusing on one story can also be essential because it narrows down finding good filters and visuals which helps in post-production. 
The short documentary 'The Blind Stigma' shares the too often untold stories of mental health within the Black community, exploring multiple perspectives of different individuals.  Though there are five people interviewed, the film focuses on one central storyline of the impacts of cultural stigma on reaching out for help, and the experience of feeling like your mental health challenges are invalid.  This method of delivering a message is effective because it looks at different perspectives on the same issue and gives various examples in support of the topic. For anyone who has been in a similar position as this central theme, there is at least one person whose story you'll resonate with.
Lean into cinematography
In the film 'When the Fat Girl Gets Skinny', filmmaker Abby Thompson uses different visual techniques to make her film captivating. She notes how "specific images and nuance to the story is important. Show and suggest ideas visually, and try to not explicitly say things with dialogue. Another way to do this is to make every element in the film thoughtful and with purpose. From the color of the pillows on the couch, to the music, to deciding between shooting handheld vs. locked down on a tripod. Each decision can elevate the content of the film by doing technical and formal work. "
Words aren't necessary for a film to be effective. The elements to bring dialogue to life and develop authenticity can include details like facial expressions, body language, distractions, or even flickers of the eyes (Source). Techniques such as tightening the framing and extreme close ups can also add intensity to the dialogue (Source). Close ups are a powerful method to convey emotion and make the dialogue more compelling. The images in 'When the Fat Girl Gets Skinny' changes from mid-range shots to a series of extreme close ups. These techniques work by removing distractions and making the viewer focus heavily on the main character and objects.
Be authentic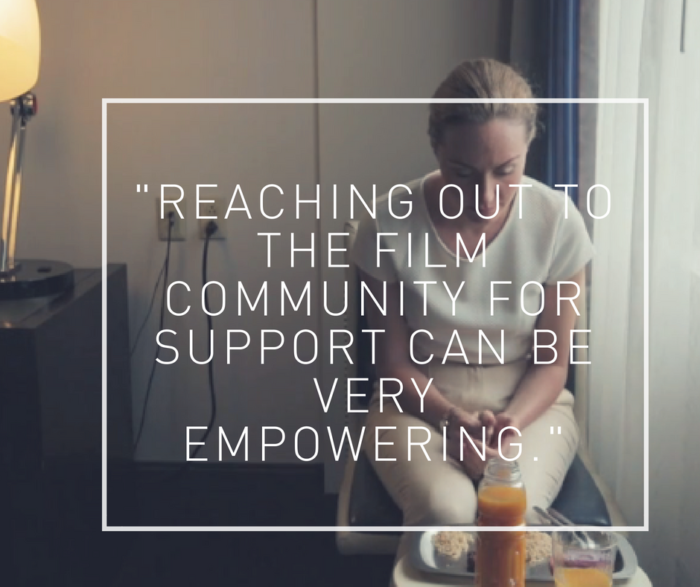 Many powerful films often have shared narrative experiences that help create a feeling of authenticity. The film 'mEAT' focuses on the struggles associated with recovering from an eating disorder. Filmmaker Priyanka Rajendram suggests that the first step to writing a film is to decide who it is for, who the target audience is, and "what about the topic really resonates with you". From this evolves the main message. Says Priyanka: "This involves being real and honest with yourself and those around you. It should never feel forced and the story should come about organically for that authenticity to show on screen." She also suggests remaining authentic about your strengths in creating a film. When she created "mEAT." Priyanka was a medical officer and public health resident passionate about shedding light on eating disorder recovery. With strengths in writing she reached out to others in the film community for support, which resulted in her powerful short.
One filmmaker who's authenticity shines through is Elizabeth Ayiku, filmmaker of 'Little Elizabeth'. This beautiful film shares the importance of lending compassion to our younger selves, and how this can be a powerful tool in recovery. Since the film was largely based on her own experience,  Elizabeth believes that "the best way to be genuine is to simply tell your story, not the story you think people want to hear. Just get it all out of your head and down on paper. You'll be surprised what comes out." To read more about this film and Elizabeth's future projects, check out our recent AWI Exclusive interview with the filmmaker!
Have any questions or comments about this blog? Comment below or visit us on social media! Next time, we'll be discussing an especially important one if you're interested in submitting to our competition: tips for staying within a 5 minute time frame!
---
All content on Art With Impact is available to all, free of charge and without ads. If articles like this are valuable to you, please consider supporting Art With Impact.
This matters!