Social Issues Filmmakers Get Significant Boost from Skoll Foundation
Let me tell you from experience: this story has an entirely different impact when you think the funding organization is tied to smokeless tobacco.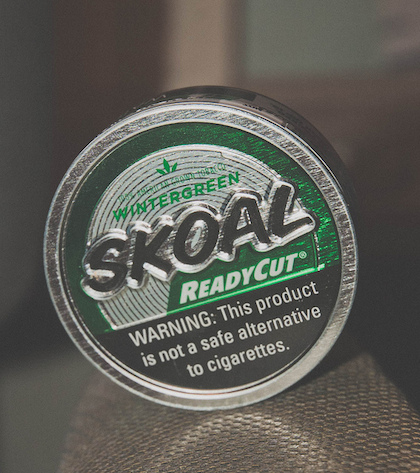 Hello, friend. I'll see you again someday emptied on the side of the road/run over in a gas station parking lot/hastily abandoned in a middle school bathroom.
The Skoll Foundation (that spelling makes all the difference) is actually the creation of Jeff Skoll, who founded the organization in 1999 to be a driving force in enacting "large-scale change by investing in, connecting, and celebrating social entrepreneurs and the innovators who help them solve the world's most pressing problems." A rather lofty mission to be sure, but the Skoll Foundation has proven themselves up to the task. Since 2004, the foundation has hosted the annual Skoll World Forum in Oxford, England, where agents of change convene to discuss, debate, and innovate solutions to the toughest challenges facing the global community. Past participants in the Skoll World Forum include Kofi Annan, Jimmy Carter, Queen Noor of Jordan, and Desmond Tutu — so, yeah, you could say the Skoll Foundation is doing pretty well.
Impressive name-dropping aside, the organization sticks tightly to its goal of social change with its actions as well as its words: the Skoll Foundation announced recently that it has given a generous boost to the Sundance Institution | Skoll Stories of Change Initiative, which teams filmmakers with social entrepreneurs to create films that give a voice to (and focus global attention on) "urgent social issues." Skoll has ponied up an additional $2.5 million to benefit Stories of Change, which, in its seven-year lifetime, has seen the completion of 11 documentaries and 11 multi-platform media projects, along with multiple workshops and labs.
Two shining examples of the initiative's success are films Open Heart and Rafea: the Oscar-nominated Open Heart motivated the Rwandan government to take major steps towards eliminating rheumatic heart disease amongst its citizens, and Rafea enjoyed worldwide exposure with the Why Poverty movement.
Open Heart from Kief Davidson on Vimeo.
"We're proud and excited to expand our support to broaden the reach of these stories and their potential to help us envision and work toward a better world," said president and CEO of the Skoll Foundation, Sally Osberg.
The Skoll team will join their Sundance counterparts on January 25th to celebrate the official beginning of this new chapter at the Sundance Film Festival in Park City, Utah. A panel will convene at the event to discuss democracy and accountability, featuring Laura Poitras (CitizenFour), Jehane Noujaim (The Square), Orlando Bagwell (UC Berkley J-School, Eyes on the Prize), Carne Ross (Independent Diplomat), and Jess Search (BritDoc).
You can learn more about the Skoll Foundation here.
---
All content on Art With Impact is available to all, free of charge and without ads. If articles like this are valuable to you, please consider supporting Art With Impact.
This matters!