Searching for Life After Mental Illness in Jono Oliver's 'Home'
The Wizard of Oz isn't just a cinematic classic, it's contributed one of the most iconic and genuine pop culture phrases ever to enter our collective subconscious.
And yes, I'm talking about "There's no place like home," although I submit that "Some people do go both ways" is a close second.
The desire for home is an instinctual one, but what happens when the ability to find and keep a home don't come easily?
In Home, the new drama from Jono Oliver, we meet 33-year-old Jack Hall (Gbenga Akinnagbe) as he attempts to move past his history of crime and 14-year struggle with mental illness to a happier, more stable future. But as Jack prepares to leave his group home (against the warnings of the home's resident psychiatric nurse), he quickly realizes that life "on the outside" is full of challenges he didn't anticipate. Faced with losing his new apartment—and, therefore, the inherent admission that he isn't able to conquer life outside the confines of a group home—Jack is forced to consider drastic measures to keep his independence.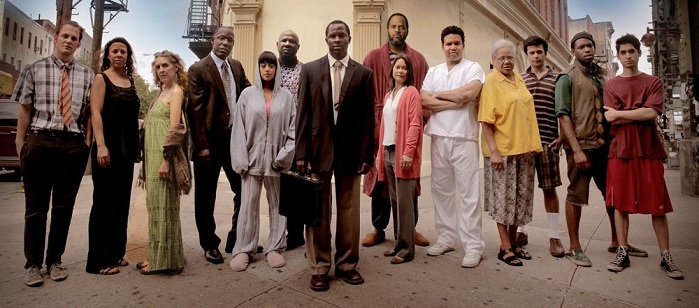 Jack's story is an important one to tell, especially in a modern world that continues to stigmatize and otherwise ignore the mentally ill. The price Jack has to pay for seeking treatment and striving to better his life is that he must begin his adult life all over again at square one, with the possibility of failure (and re-hospitalization) always looming.
Brooklyn-based Jono Oliver, who serves as writer, director, and producer of Home, is no stranger to the industry, having garnered recognition with many of his past credits (Notorious, Barbershop 2, Last Action Hero, Snake Eyes, Soul Food, John Tucker Must Die), and has also had success on the festival circuit. His short film The Window was included in the 2000 Sundance Film Festival, and his screenplay The Other One won the Independent Feature Project's Gordon Parks Award for Screenwriting. In 2007, Oliver created Brooklyn Psych, a television drama about workers and patients within the mental health industry. It was perhaps that project that inspired Oliver to create Jack Hall's journey in Home, which the film's website describes as "a love story; a redemption story; and a story about a father and his son."
Home will be screened at The Home House in Park City, UT from January 18-23, 2013.
---
All content on Art With Impact is available to all, free of charge and without ads. If articles like this are valuable to you, please consider supporting Art With Impact.
This matters!