Moscow's 2Morrow Film Fest Fights for Funding
Part of the glamorously tragic plight of being an artist is the unavoidable task of appealing to others for funding. Sometimes it works, sometimes it doesn't.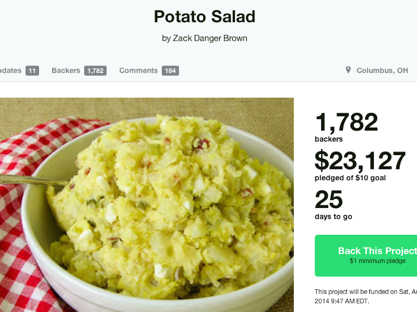 Oh, why can't the arts be as desirable to support as a side dish??
But it takes a pretty epic rejection of funding to make the news, and that's precisely the situation currently unfolding in Moscow. The Moscow 2morrow International Festival of Independent Films has announced that the 8th installment of this annual event is in danger of cancellation, due to the lack of financial support from the Russian government. With no confirmation of funding provided by the Russian Ministry of Culture and Moscow Department of Culture (the festival's usual backers), the event's organizers have taken their story public in hopes of rallying support from the international film community that might pressure the government agencies into action.
So why the nonexistant cash flow from the Russian regime this year? The festival organizers have a theory: the government has finally become uncomfortable supporting an event created with the spirit of social, political, and sexual equality that 2morrow has always sought to foster.
"As of today [July 31], the Ministry of Culture [and] the Moscow Department of Culture haven't confirmed their support. It can only mean one thing – a silent refusal to have 2morrow happening," said 2morrow's organizers, Olga Dykhovichnaya and director Angelina Nikonova on the event's Facebook page. "At times of war, which involves all of us emotionally or otherwise, the permanent disappearance of a film festival might seem as a matter of no importance. But we believe that especially during hard times the muses shouldn't be silent, they shouldn't let the tanks roar. We cannot allow ourselves to let the media get us confused, to let the hate in our hearts, to get isolated from the world culture behind yet another iron curtain. We do intend to save the festival as a territory for international interaction, for an important dialogue both cultural and professional."
Dykhovichnaya and Nikonova have invited statements of support on their Facebook page, with the idea that enough voices will persuade the Russian ministries to reinstate their funding of the festival. To learn more about the festival and to lend a supporting statement to your fellow filmmakers, please take a moment to visit their page — and to share their call for comments with your friends and colleagues.
Best of luck to our friends at the Moscow 2morrow International Festival of Independent Films.
---
All content on Art With Impact is available to all, free of charge and without ads. If articles like this are valuable to you, please consider supporting Art With Impact.
This matters!