Mental Illness Means Silence and Stigma in 'Pandi'
Families are great at keeping secrets, aren't they?
And then there's the plain and simple avoidance technique.
For Maria-Saroja Ponnambalam of Toronto, it was the secrets surrounding her Uncle Pandian "Pandi" Kumaraswamy's death in 1996, when she was 12 years old. "He was sick" was the only explanation offered to Ponnambalam, who had looked up to her aspiring filmmaker uncle as inspiration to pursue film herself. It is fitting, then, that her first feature film focuses exclusively on her Uncle Pandi, and how the family's silence masked the true story of his mental illness and eventual death by suicide.
Perhaps the largest challenge faced by Ponnambalam in the production of Pandi was getting information about her uncle from her Tamil-Canadian family. Operating on bits and pieces at first, she traced Pandi's life back to Chennai, India where he had tried to make a go in the movie industry. Hoping to find more opportunity in Canada, Pandi came to Toronto, where he began experiencing the symptoms of his mental illness, referred to on one medical certificate as bipolar disorder, but only mentioned as "depression" by his Indian and Canadian family members. Pandi underwent shock therapy and a trip to a waterfall said to cure mental illness, but nothing seemed to help. After informing his brother that he intended to kill himself, Pandi did just that.
Now, in her exploration of her uncle's life and death, Ponnambalam hopes to bring awareness to the Tamil community in Toronto, for which mental illness is a common—although stigmatized—problem. With many residents struggling with after-effects of war and natural disasters in their homelands and others involved with drugs, the need for mental health awareness is critical.
"We have this problem among us. We try to ignore it," said Pandi's brother (and Ponnambalam's father), Ponnu. "I think it's still a problem."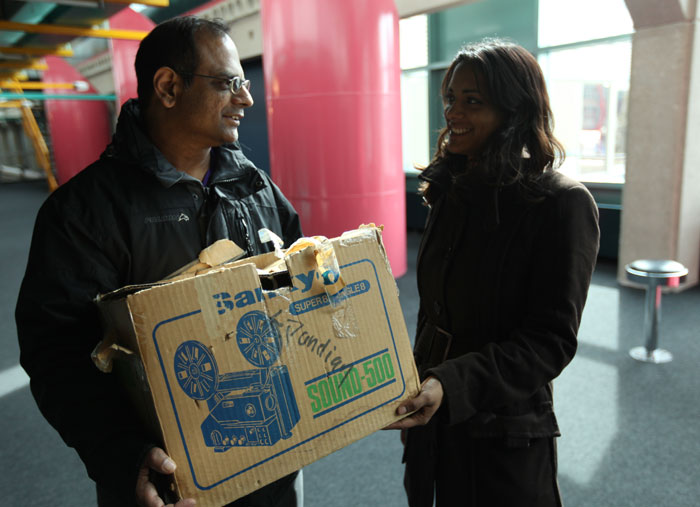 Pandi premiered at the Scarborough Film Festival earlier this month, where it won the Audience Choice Award. You can learn more about the film here.
---
All content on Art With Impact is available to all, free of charge and without ads. If articles like this are valuable to you, please consider supporting Art With Impact.
This matters!