Filmmakers Honored for Positive Impact on Transgender Community
If you've never heard of the annual Trans100 event, your ignorance stops today.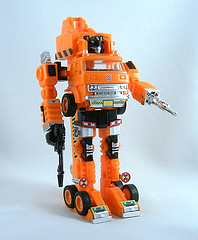 I regret to inform you that it does not involve Transformers.
The third annual Trans100 event was live-streamed at Chicago's Mayne Stage on March 29th to celebrate transgender individuals making a positive impact within the trans community in the United States.
Trans100 is made possible with support from Lambda Legal, and cofounder Jen Richards says that the honorees are chosen by an anonymous group of volunteers. Rebecca King and Crispin Torres, co-directors of the event, stress that Trans100 is not meant to be a competition, but a celebration.
"It is not a list of the 'Best' or the 'Most Important' trans people," say King and Torres. "It is not a popularity contest and there are many individuals absent from the list who are doing excellent work. More are no longer with us."
The entire Trans100 list is worth a look (you can view it here), but for our intents and purposes, we've plucked some filmmakers from the list to highlight the work being done in trans advocacy from behind the camera:
Trans100 honoree Lexie Cannes has enjoyed exposure and success on the festival circuit with a trans-themed feature that shares her name. Lexie Cannes boasts a transgender lead actor along with a supporting cast of trans individuals, and a review of the film called it "part romance, part mystery, part social statement and nearly always a complex exploration of one woman's relationship to the world that surrounds her.."
Lexie's fellow honoree Sam Feder is a seasoned filmmaker who trots the globe hosting screenings, lectures, and panels on trans-themed work. His first directorial effort, documentary Boy I Am, was praised as one of ten "Must See Gender Documentaries," and his third feature, Kate Bornstein is a Queer & Pleasant Danger, was voted one of the best LGBT docs of 2014.
Joe Ippolito is the force behind the Gender Reel film and performance art festival, dedicated to "enhancing the visibility of trans people." He was the director and writer of the 2014 doc Growing Old Gracefully: The Transgender Experience.
.
Congrats and good work to all the Trans100 honorees!
---
All content on Art With Impact is available to all, free of charge and without ads. If articles like this are valuable to you, please consider supporting Art With Impact.
This matters!