Fashion Designer Screens Short on Depression and Body Image During New York's Bridal Market Week
Though it's supposed to be one of the happiest days of your life, your wedding day (especially in these wedding-obsessed times) often comes with a fair amount of BLINDING PRESSURE.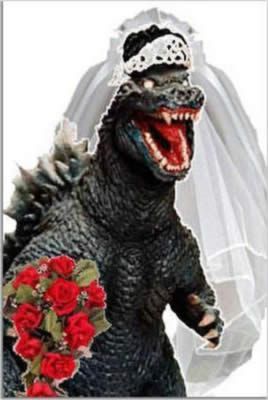 Something old, something new, something borrowed, something to clean up with after your tantrum over the prime rib leaves a wide swath of destruction…
Brides today feel pressure from all directions, especially when it comes to body image and the expectations of others on The Big Day. Fashion designer Katharine Polk took an opportunity at the recent Bridal Market Week in New York to replace her runway time with a 15-minute documentary about the issues women face when it comes to body image, depression, and the pressure of social media.
Polk and her dog, Jonesy.
Polk–who founded her own brand, Houghton, in 2012–recently opened up to Harper magazine about her own struggles with anorexia and body image issues, and the experience inspired her to create the film. Polk included fellow designers and models in the short, each of whom shared their experience with the sometimes-merciless fashion industry when it comes to issues of photoshopping, post-partum body image, and the resultant depression and self-medication that often comes along with such issues.
"I wasn't really expecting to reveal as much as I did but I really respected Katharine's vulnerability and her honesty," said designer Lisa Salzer in an interview with the Observer about her participation in the film. "Honestly after that night, after reflecting on it, I was thinking I should call her and tell her to not put it in the film. But I slept on it and decided that maybe I could help some people cope with their own anxiety and depression."
Participants in the film then selected pieces from past Houghton collections and updated them, customizing the looks for their individual body size, and proving that fashion can be inclusive while still maintaining a designer edge.
A big dose of respect goes out to Katharine Polk for her attention to mental wellness within her industry. Polk's film is unfortunately not (currently) available online, but you can learn more about her bridal collection here.
---
All content on Art With Impact is available to all, free of charge and without ads. If articles like this are valuable to you, please consider supporting Art With Impact.
This matters!