Student Voices: My Experience as Movies 4 MH Panelist
By: Emily Boylan, current student, Conestoga College
When I heard that Art With Impact's 'Movies 4 Mental Health' workshop was coming to Conestoga College I was both excited and overwhelmed. I have a history of dealing with mental health challenges and I was interested in attending the event to learn more about the experiences of others. Plus, I have always been inspired by short films and was excited because Art With Impact was screening films from their winning short film collection for us to watch. My counsellor and I talked about the event, and I decided to speak as a panelist.
When the day of the event came I was nervous, yet filled with pure excitement. The workshop was set up for us to sit at round tables and open for anyone on campus to join. We sat and listened to Natalie, the facilitator, speak about the context of stigma around mental health in today's society. Then we were introduced to films from Art With Impact's OLIVE Film Collection which I really enjoyed especially because I could connect with them. The films were Gladys, Not Just a Phase, The Blind Stigma, and The Gift. After discussing the short films with the group, I realized how much stigma there actually was around mental health, especially in the media.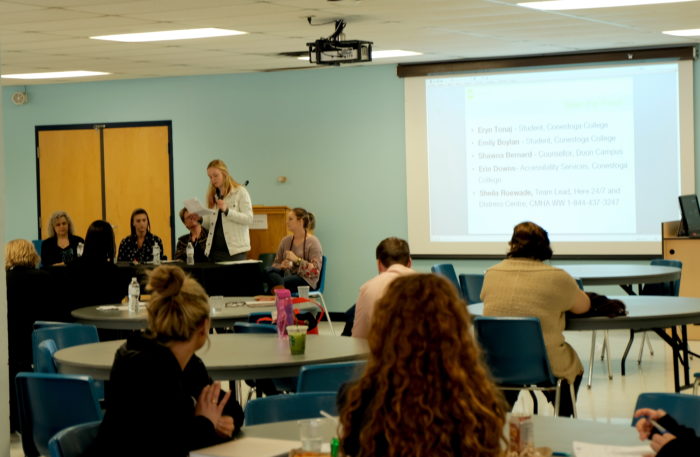 After this it was time for the speakers to tell their stories to the crowd. This was the part that I was involved in and it was very moving; I listened to the first student speak and it impacted me greatly. Listening to someone who had gone through an experience that only made her stronger made me feel empowered and less ashamed about my mental health issues. I then told my story. Looking out into the crowd made me nervous but I wasn't afraid because I wanted people to hear it. I then shared a bit about my journey with mental health: I was in an abusive relationship for roughly a year and a half, and going through this really impacted me in a negative way. I was diagnosed with severe anxiety and panic disorder, and this eventually led to suicidal thoughts. I explained to the audience that it took me about a year of trying different coping methods to realize that I needed medication. Taking medication is not a failure, but its a strength. I needed something to control my anxiety before using the coping methods I was learning, which in the end helped so much. When my mother was diagnosed with breast cancer, this is what saved me from dying by suicide, and what had ultimately pushed me to take the medication. I was so eager to tell my story because I wanted to be able to help at least one person in the crowd that day. I wanted to inform people that they are not alone no matter what they were going through, because this is something I needed to hear when I was going through the worst of my journey. I wanted to help at least one person who was dealing with a mental illness or struggling.
Overall, the workshop was great, and it not only moved me but made me feel stronger for what I have been through. I would strongly recommend attending one of Art With Impact workshops if they take place near you. I learned a lot about the stigma around mental health and listening to real life stories blew me away. I was so proud that this event was able to happen at our school and hope that it continues to empower others all over.
---
All content on Art With Impact is available to all, free of charge and without ads. If articles like this are valuable to you, please consider supporting Art With Impact.
This matters!