Art-A-Thon With Impact
The Art-A-Thon With Impact is Art With Impact's 12-hour creativity and wellness festival and fundraiser.
Young people aged 16-25 are invited to participate in groups of 2-8 participants, with each group focusing on an artistic medium. In 8 hours, each group will create an original work of art that is connected to themes of mental health and wellness. Art forms include short film, theater, music, photography, painting / visual art, and dance.
Saturday, November 3, 2018
Portland, OR
9:00am – 5:00pm = participants create
6:00 – 9:00 pm = festival open to all
The festival will celebrate the valuable perspectives and experiences of the young people participating. It will demonstrate the power of the arts in reducing stigma around mental health issues, and promoting positive social change across communities.
The Art-A-Thon With Impact is generously hosted by Lewis & Clark College Office of Diversity and Inclusion.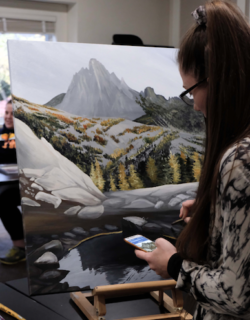 Participate!
If you are between 16-25, and able to get to Portland, OR on Saturday, November 3, you are invited to participate! You will choose an art form, choo
se your teammates or be placed on a team, and invite your community to sponsor your participation. On the day, you will have 7 hours to create an original work of art, and you will perform or present it at the festival that night!
Partner!
Organizations are invited to partner with Art With Impact for the Art-A-Thon. A partnership could include your organization being featured as a partner across all promotional materials for the festival, having professional artists in your network serve as Creative Mentors to the participants throughout the day, and inviting your community to participate in and attend the festival.
Email [email protected] to chat about being a partner to the Art-A-Thon!
Sponsor / Donate!
Individuals and businesses have the opportunity to sponsor the participants or festival through donations. Sponsorship packages are available for those who would like to be an official sponsor.