Get your free eBook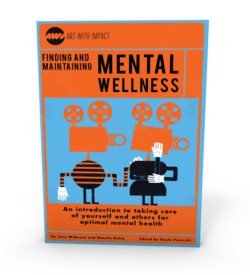 Art With Impact's eBook, "Finding and Maintaining Mental Wellness" is a great introduction to concepts of mental health and self care.
This quick and engaging read:
Creates a framework for thinking about mental health as a combination of mental wellness and mental illness
Defines and identifies concrete opportunities for practicing self-care
Helps explain the difference between all those different types of mental health providers
Provides specific ideas for supporting people in your life who are living with mental illness
In each chapter, the authors link to films from Art With Impact's OLIVE Film Collection, giving readers interactive opportunities to explore new ideas through diverse perspectives. Get your copy today, share the book with a friend who might like it, and please! Let us know what you think.
Let's keep the conversation going!