DON'T BLAME JACK: AWI Exclusive Interview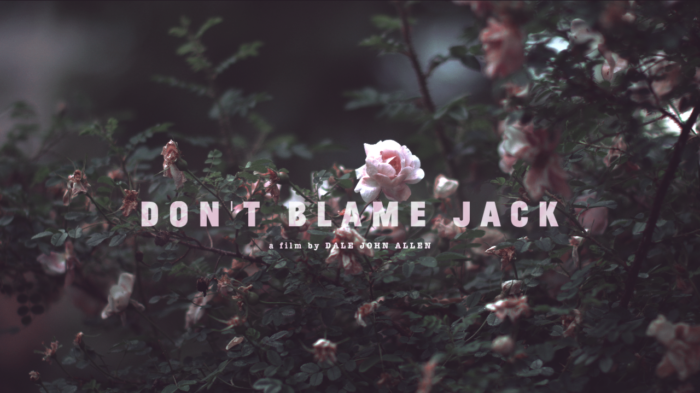 We had the chance to chat with one of our favorite humans recently – Dale John Allen – about his latest film project! You may remember Dale from his May 2016 winning short A FILM ABOUT LOVE, an incredibly personal glimpse at accepting his diagnosis of bipolar disorder. Or, from the beautiful blog Dale wrote this past February 'Using Art to Find My Truth' where he inspired us with sharing his story of using words and creative writing as an outlet for acceptance and healing. Still not ringing a bell? Dale is also a valuable member of our AWI Advisory Board, where he contributes to our work as a subject matter expert and lends his voice to our ongoing film competition as a juror.
This time around we're excited to feature Dale's exciting new project – DON'T BLAME JACK – his thoughtful, semi-autobiographical short-film which tackles the subject of post-diagnosis and specifically, overcoming a loss of self, the recovery process, and adjusting to new circumstances. It is a story about learning self-love and self-appreciation and acceptance. We interviewed Dale and Jordan Tweddle, the lead actor of the forthcoming short film:
Jordan, what has drawn you to want to tell this particular story?
Jordan Tweddle (JT): All acting is a never ending search into human behaviour- in ordinary and extraordinary circumstances. I think that's what draws me towards any project; I want to try and understand how other people operate and find myself living in their situations. This project is particularly enriching because through Jack we explore a wide spectrum of humanity, meeting Jack at his most vulnerable point in his life, but with an ever growing strength within him. It's very much a coming of age story, Jack is trying to discover who he is and that's really exciting as an actor because I get to go on that journey and make those discoveries with him. The writing is sublime, its raw and daring, and doesn't gloss over any of the struggles surrounding metal health and sexuality. It will resonate with everyone on a certain level.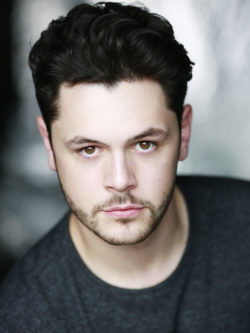 I have complete trust and confidence in the text; Jack is a real breathing human with his own passions, hunger and desires. It also exposes hugely relevant and important subject matter that is often shied away from, yet desperately needs to be given a voice and discussed.
How many actors are confirmed for the project?
Dale John Allen (DJA): So far we have cast the wonderfully talented Jordan Tweddle in the lead role of 'Jack'. Jordan is a Manchester-based actor and alumni of the Manchester School of Theatre. I had spotted Jordan on the MsoT website and went to see his graduate show and he blew me away and I instantly knew that I wanted him in this film. He is an incredibly talented and passionate performer, and he completely gets this story and what I am trying to achieve with it, which was hugely important for me. I'm super excited to start shooting with him and bring the script to life.
We will also see Brighton-based drag performer, Lydia L'Scabies who I worked with previously on my last short, 'Hugo, XO'. Working with Lydia is always such a dream so I can't wait to collaborate with her again.
'A FILM ABOUT LOVE' talked a lot about navigating medication and the impact of that on your mental health. Will 'DON'T BLAME JACK' shine a light on this topic again?
DJA: Absolutely. DON'T BLAME JACK, although only semi-autobiographical, explores a lot of my own conflict with the idea of medicating myself. If you've watched A FILM ABOUT LOVE then you will understand that this 'character' that I am expressing my love for is actually the mania that my medication is suppressing, and I loathed that about my medication. My best friend is a musician and he wrote a song about my mania and how that manifested and became a character of it's own. He called this character Jack and the song goes '…don't blame me, just blame Jack…' This really struck a chord with me, this idea that mania can characterize itself into someone out of my control, and this really was the starting point of 'DON'T BLAME JACK'. This song almost bought me to tears when I first heard it, so I honoured the song in the title. I felt very lost when I started my medication when that 'other person' gradually disappeared and I had to learn essentially how to be myself.
No matter how much I am medicated now, this character will always be a part of my history and who I am today, so it was important for me to not only accept responsibility for my manic behaviour but to accept that that side of me is always going to be with me, whether I am medicated or not. DON'T BLAME JACK is all about accepting those parts of yourself, the parts you desperately try to keep anyone from knowing about, the parts you deem to be your character flaws, they all work together to create the person that you are. It's about learning to accept that you can never be, nor should ever try to be perfect and that your history does not define your future. It is about loving yourself and appreciating the person you are.
What other types of misconceptions around living with bipolar disorder and/or recovery will this film combat?
DJA: We talk a lot about how just because this other 'character' is no longer a dominant in your life it does not mean you still do not look for them. In the film, the character of Jack is in the same headspace I was when my medication started to take effect. He is lost and he is still looking for those temporary 'highs' to fill the void. I'm trying to combat the idea that the moment you are diagnosed and you start taking medication that life is, from that point on, changed, and is all good again. But it really isn't like that. A diagnosis like bipolar changes you as a person, it makes you question every aspect of your character and try and figure out what part of you is you and what part of you is this illness. That is something I am still working out 3 years after my diagnosis. Recovery is such a battle and I think it's important not to sugar-coat the issues. Mental health is really hard and it's important that people are aware just how hard it is. It's important that people know that a diagnosis like bipolar is something I have to conquer in some shape or form every single day. Medication is not a quick-fix and then everything is suddenly better. It takes a lot of work and you need to be kind to yourself every single day and know your worth.
What is the hardest part about telling your story and/or basing a film off of your personal experiences?
DJA: Being judged or being unfairly categorized in this box of 'mental illness'. It's hard being so open about all the things that not so long ago you could not even admit to yourself. It's a challenge but it's what drives me creatively. I still go through that process of trying to filter myself or water down specific elements of these stories because sometimes they are just to hard to write. I've had a wonderful mentor throughout the writing process of DON'T BLAME JACK (filmmaker and activist, CAMPBELL X) who has taught me how to be kind to myself and trust my gut as a writer and encouraged me every time I've doubted my creativity.
What is the hardest part about telling someone else's mental health story and working on a film that touches on inherently personal issues?
JT: There's certainly a huge amount of responsibility and trust that Dale has given me here as this is his story, it's his experiences and his history that have sculpted who he is today. I haven't taken this lightly; I'm completely immersing myself in the world of DON'T BLAME JACK, by working closely with Dale but also by meeting with and learning from the experiences of the wider community. When dealing with sensitive subject matter like this it's vital it is done with complete accuracy and empathy. It's important for me that Dale is able to recognize himself within my portrayal of Jack, but also that I find myself in the role; channelling my own experiences and finding my similarities to the character. Hopefully this is something our audiences can do too, at its heart it's actually a very universal story that everyone should be able to relate to on what ever level that may be.
What can be done to increase awareness of the prevalence of mental health issues within the LGBTQ community?
DJA: Educate yourself. Unless you're incredibly lucky, everyone in this community has grown up shamed for who they love or who they are. Thankfully it's getting better nowadays but it is by no means there yet. It's that inherent self-doubt that feeds mental illness so I am not surprised that mental health is rife throughout the queer community.
I am so proud to be a part of the LGBTQ community. When I was growing up and learning about my own sexuality I never in a million years would have thought that I would, or could be this proud. It is such a loving, accepting and fun community that allows you to be whoever you want to be. It is the community that I needed when I was diagnosed and a community that I am thankful to be a part of.
JT: I think the key is encouraging more of an openness around mental health, where those struggling feel able to discuss and express themselves without prejudice. Opening up about mental health more than usually requires immense courage, and we should be rewarding that with understanding and respect. Conditions such as depression and bipolar disorder can happen to anyone; having a mental illness doesn't make you lesser, and seeking help doesn't make you weak. The more we openly discuss the causes and symptoms of mental health, not only are we creating an open support network for those suffering, we're also educating ourselves and raising awareness so that the signs of distress can be detected and the necessary action taken.
DJA: 1 in 4 people in the UK are diagnosed with depression and mental health disorders and 1 in 10 identify as homosexual. Chances are these are people in your family, or your work colleagues, or your friends. This is not a small minority of people – this is a huge portion of society. This is the world that we live in and people need to know that making someone feel small and less worthy for things that are out of their control just can't be tolerated. Just be kind.
---
If you couldn't tell already, Dale John Allen is literally using his art to change the world, and we can't wait to see this project come to life! We hope you'll check out Dale's Crowdfunder campaign for DON'T BLAME JACK and consider contributing to what is sure to be an impactful and enlightening short film. Says Jordan, "Everything in projects like these comes from a place of truth and authenticity and a desire to get these stories out there to raise visibility and show a united compassion." Check out the video and learn more about supporting this project here!
So please do support DON'T BLAME JACK.
---
All content on Art With Impact is available to all, free of charge and without ads. If articles like this are valuable to you, please consider supporting Art With Impact.
This matters!