A Wrestler Faces His Toughest Opponent in 'The Weirdo Hero'
It's hard to imagine a wrestler succumbing to an opponent he can't even see.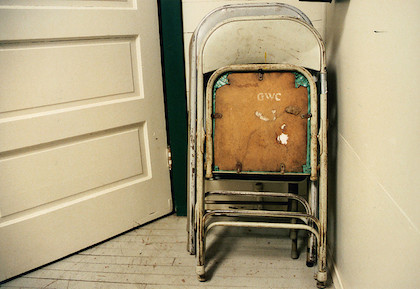 If he can't see you, how can he club you with a folding chair?!
But this captivating concept is the idea behind the upcoming short film The Weirdo Hero, by writer Shane Koyczan, writer/producer Derek Hird, and director Ryan Curtis.
While you might remember that movie about another wrestler who struggled with real life outside the ring, The Weirdo Hero is a decidedly different story, told by a team with a decidedly different end game — something along the line of less Oscars and more advocacy.
"In its basic form, the movie is about a man who doesn't know why he feels the way he does. He's dealing with undiagnosed depression," explains Curtis, who also works on the television program Supernatural. "There's a big stigma, especially with men, [who feel like they can't] admit [to having] a mental health concern. This needs to change. Even the biggest, strongest, most physically fit, successful men can battle depression."
In The Weirdo Hero, that strong man is pro wrestler Fabulous Frankie Myers, who plunges into a deep depression after winning a high-profile championship title. His undiagnosed mental illness spirals out of control as the pressures of his personal life and finances close in around him, and he soon finds himself on the brink of a terrible decision.
Many members of the Weirdo Hero crew have been personally affected by depression, including writer/producer Derek Hird.
"A clinically depressed person simply cannot see the happiness in their life even if, from an outsider's perspective, they seem to have it all," says Hird, who hopes the film might give some insight to those suffering from depression in silence.
As a testament to their commitment to bringing the message of The Weirdo Hero to the world, the entire cast and crew have been working on the project as unpaid volunteers. But with production expenses looming, there is now merchandise available to buy through an Indiegogo campaign to help keep the film moving forward.
Upon its completion, The Weirdo Hero will be available for purchase online, and is scheduled to appear in festivals beginning this June. For more information, you can visit the film's site here.
---
All content on Art With Impact is available to all, free of charge and without ads. If articles like this are valuable to you, please consider supporting Art With Impact.
This matters!